Home > Activity Groups index > Activity Groups
Activity Groups
Art Appreciation Group
Group co-ordinator: Andy Simmonds.
Time: 1st or 2nd Tuesday each month 2pm - 4pm.
Place: Members' houses or visits, see newsletter.
We are a small, popular, friendly group who enjoy viewing and discussing paintings. We have visited The Wallace Collection, Tate Britain and The National Gallery in London, and we went to the 2018 Royal Academy 250th Summer Exhibition in Piccadilly. We have also been to The Fitzwilliam Museum in Cambridge (twice), the Christchurch Museum in Ipswich and The Dulwich Picture Gallery, as well as many of the other galleries and art houses throughout the home counties.
Astronomy Group
Group co-ordinator: Malcolm Case
Time: 4th Monday each month at 7:30pm - 9:30pm.
Place: Chigboro Fishing Club, Chigborough Road, Heybridge CM9 4RE
The group covers a wide range of topics including the Solar System, the stars and their galaxies, and man's exploration of the heavens. We generally have a short presentation which is followed by a discussion on the subject and during the winter months, we usually manage to observe, through members' telescopes, the stars and planets. All members of the U3A are very welcome at the meetings.
For information on past events, click here.
Aviation Group
Group co-ordinator: Brian Johnson.
Time: 3rd Tuesday each month at 2pm.
Place: Purleigh Pavilion, Howe Green Road, Purleigh CM3 6PX.
We have lectures with audio and visual presentations every month and have trips to air shows, museums and anything associated with aircraft.
Bird Watching Group
Group co-ordinator: Peter Gaywood.
Time: Various - click here to see the programme for 2020-21.
Place: Various - see above
We have a regular group of birdwatchers who meet on a monthly basis to spend approximately two hours on a "watch". We visit many different venues in Essex using our own/shared cars.
Experience is useful, but not essential; also a pair of binoculars would be an advantage.
Botany Group
Group co-ordinator: Veronica Smith.
Time: Dates and times of the meetings are agreed when there is a viable group, but always take place in the morning.
Place: Various - see the newsletter.
This group meets once a fortnight during the months of March to October, learning to recognise the names and groups of wild flowers, by going out in the field - and inside if the weather is not too good.
Bridge Group
Group co-ordinator: Shiela Epps.
Time: 2nd & 4th Wednesday at 1:45pm - 4:30pm.
Place: West Maldon Community Centre - main hall.
No partner necessary – we make up tables according to numbers there. We do not teach from scratch so do come having knowledge of bidding etc. We are of all abilities and like to discuss the hands. Informal and friendly –even get a cup of tea!
Canasta Group
Group co-ordinator: Iris Slaney.
Time: Alternate Fridays at 2pm - 4pm. See the calendar in the newsletter.
Place: West Maldon Community Centre (Linton room).
This friendly group is currently at full capacity, however, a waiting list can be compiled for anyone interested in joining at a later date. We are willing to teach if you need to learn the game.
Cribbage Group
Group co-ordinator: Pat Clements.
Time: 4th Friday 2 - 4pm
Place: Members' houses
Most of us have played before and we are certainly not experts. Our group is full at the moment but we are willing to put your name on a waiting list.
Croquet Group
Group co-ordinators: Jean Healey, Shirley and Geoff Macro.
Time: 1st and 3rd Wednesdays 2:30pm
Place: Forresters Golf Club
This group has been set up with the assistance of Maldon Croquet Club, who helped us get an understanding of the game and how to use the mallet and work their way around the lawn. Croquet is a fun game to play, especially when with good company. Complete beginners were successfully hitting the ball and running hoops, all greeted by cheers and cries of "Well done!" A very pleasant afternoon is rounded off with a cup of tea (or coffee) at the Clubhouse.
If you would like to come along and have a go, the group meets on the 1st and 3rd Wednesday afternoons from April through to October. There is a charge of £5 for the use of all the equipment. We will be playing from 2.30pm. Please note that for safety reasons, closed-in shoes should be worn, no open sandals.
Discussion Group
Group co-ordinator: Bryan Jones.
Time: 1st Thursdays at 2pm - 4pm.
Place: Members' houses.
We are a friendly and informal group where there is room for agreement and disagreement, laughter and serious views and anything is up for discussion.
We welcome new members.
Egyptology Group
Group co-ordinator: Kathleen Goff and Sue Robinson.
Time: 2nd Tuesday at 2pm.
Place: Member's house.
This very interesting keen group start each meeting with an update on "what's happening now" in Egypt with news from papers and TV. Our member who spends much time in Egypt then relates her expeditions and excavation projects. We then watch a DVD for half an hour on a particular dynasty presented by Professor Bob Briers.
Family History Group
Group co-ordinator: Alan Buck .
Time & place: Beginners: Last Friday each month at 10.00am - 12 noon at a member's house
We talk about our researches - successes and failures - and exchange our various interests and methods. We are always happy to welcome new members and I can arrange for beginners to meet at my house at any time of the day so that we can explore how their basic research can be carried out.
Be warned! it can become addictive!
French Conversation Group
Group co-ordinator: Ann Lester.
Time : 2nd & 4th Thursday each month at 2pm
Place: Member's house in Tolleshunt Knights.
We are a friendly group all keen to converse in and improve our French. We usually begin by talking about where we have been and what we have done since our last meeting. We then read and translate an article or two from a French magazine, often accompanied by a recording of the article by native speakers. Help is always on hand as I am an ex French teacher.
Geology Group
Group co-ordinator: Sylvia Cousins.
Time : 3rd Tuesday each month at 2pm.
Place: Various.
We enjoy a varied programme of visits to local museums, visiting speakers and film. None of us is an expert and our levels of knowledge vary widely, but everyone is keen to know more and with such a wide-ranging subject, there is something for everyone.
Handicrafts Group
Group co-ordinator: Marian Manning .
Time : 2nd and 4th Monday each month at 10am - 12 noon, except August.
Place: Cold Norton Village Hall, Cherry Blossom Lane, Cold Norton
A small group who have an interest in Crafts and Handicrafts. We meet regularly twice a month in the Cold Norton Village Hall. Over the past year we have enjoyed some Embroidery, Painting and stamping onto material and making various items from the material, covered coat hangers, a wonderful Christmas wreath and also some cards for birthdays and Christmas using a wide variety of techniques.
Our group is currently full to capacity but if you wish to be included on a waiting list then please contact Marian.
History - Stuarts Group
Group co-ordinator: Beryl McDonell
Time: 2nd Thursday each month at 10am.
Place: West Maldon Community Centre.
We are a very friendly group who meet monthly. Between us we are finding out about this very interesting period of our island's history as well as some world-wide events. Do come and join us.
History - Local and General Group
Group co-ordinators: Sylvia Cousins, Jane Coombes and Kathy Goff.
Time : 4th Monday each month at 2pm,
Place: Maldon Town Hall - see the monthly newletter for details.
Price: £2.00 per session but could be more for some speakers
The group meets throughout the year to hear speakers and presentations on various historical subjects from a local and general perspective. This is interspersed with visits to museums and places of interest either by coach or car share.
All members are welcome – come along and share an enjoyment of history.
Programme for 2020:
DATE
SUBJECT
SPEAKER
27 Jan
The History of Mangapps Railway Museum
John Jolly
24 Feb
Virtual Tour of Maldon Moot Hall
Penney McAvoy
Mike Fogg
23 Mar
RAF Bradwell Bay Airfield in WW2
Kevin Bruce
25 May
NO MEETING— BANK HOLIDAY
22 Jun
The Story of Silver End
Jackie Nesbitt
27 Jul
The History of Burnham
Margaret Smith
24 Aug
No meeting
24 Sep
A visit to Hatfield House
29 Sep
An East Anglian Panorama
26 Oct
The Agricultural Riots of 1830
Roger Smith
23 Nov
The making of a Maldon Journal 1990-1993
Patrick Chaplin
28 Dec
No meeting
For information on past events, click here.
Just Jazz Group
Group co-ordinators: Jim Light and David Coombes.
Time : 3rd Monday each month at 7:30pm.
Place: Maldon Little Ship Club in the downstairs room.
We play mainly "TRAD", but if anyone has something they want to share with the group then bring it along on CD or memory stick. Please itemise the tracks you want to listen to as this helps us to plan the evening. There is a bar available and the evenings are very enjoyable.
Luncheon Groups
Group co-ordinators:
2nd Wednesday: Joyce Cotterell ('Meet and Eat')
3rd Wednesday: Paul Costa
Place & time: 12:15 for 12:30pm at various venues
Each group meets once a month in a pub for a chat and a bite (or even a beer). We try to sample the pubs in the surrounding area within a 15-20 minute drive from Maldon.
The 2nd Wednesday Group (Meet & Eat) keeps to limited membership and visits a different 'fine dining' restaurant or bistro pub each month. Every member takes a turn in organising the venue, The list goes up at the Monthly Meeting and details are in the newsletter (a month in advance).
Mah-Jong Goup
Group co-ordinator: Molly Polden
Time: Alternate Fridays each month at 2 - 4pm. See the calendar in the newsletter
Place: West Maldon Community Centre - Linton room.
We meet alternate Friday afternoons for an enjoyable two hours. We are now a group of fifteen members, more always welcome.
Maritime Group
Group co-ordinator: Malcolm Case
Time: 1st Monday each month at 10am - 12 noon autumn to spring. In the summer, we usually go on outings.
Place: The Blackwater Sailing Club, Basin Road, Heybridge CM9 4SD.
During autumn to spring we generally have illustrated talks at The Blackwater Sailing Club on subjects with a Maritime interest, such as sailing around the world by yacht, the role of the Merchant Navy in times of peace and conflict, information on specific ships, both Merchant and Royal, amongst many other interesting nautical topics. During the summer months the group generally visits places of Maritime interest.
All members of the U3A are very welcome at the meetings.
2020 PROGRAMME
Monday 6th January – Part 2 of David Griffiths very interesting talk on "Life Aboard a Submarine"
Monday 3rd February – Talk by Alison Mainwood on "A Brief History of Women in yachting". Most of the people you see and hear of in small yachts are men why? We will look at several very notable women who are the exceptions to this and see how they now can compete with men on (almost) equal terms, but few still chose to do so.
Monday 2nd March – talk by John Rogers – "East Coast Magic", a personal view of the magic of the east coast told in pictures and stories – from his long, over 70 years, association with sailing the east coast.
Monday 1st June – talk by Dr. Meghan Barford from the National Maritime Museum Greenwich on "Maps and Cartography".
Monday 6th July – talk by Janet Hall on the steam tug "Brent". She was built in 1945 by William Pickersgill, Sunderland for the Ministry of War Transport and designated TID 159, meaning Tug Inshore Defence, these steam tugs were one of the first UK ventures into all welded prefabricated steel shipbuilding. Most were used by the Admiralty and TID 159 was the last to be built. She was sold to the Port of London Authority (PLA) at a subsidised price to replace wartime losses and renamed BRENT. Working in the Dredging Department and Enclosed Dock System of the PLA she was eventually laid up in 1969 and sold to a shipbreaker in 1970. BRENT was saved by a private buyer in 1971 and by 1973 had won an award at the Greenwich Festival as Best Kept Privately Owned Power Craft She is the only steam powered vessel to have attended on the Thames at the Queen's Coronation in 1953 and the Silver Jubilee in 1977.
Monday 7th September – talk by Patricia Ezra of the Apostleship of the Sea. This talk is about the work of The Seafarers Centres around the world.
Monday 5th October – trip to Upnor Castle on the river Medway. Upnor Castle is an Elizabethan artillery fort opposite and a short distance downriver from Chatham Dockyard, at one time a key naval facility. The fort was intended to protect both the dockyard and ships of the Royal Navy anchored in the Medway. Following our visit we will then go to Maidstone for a trip on the river Medway on board the "Kentish Lady". Cost per person, £46.00, this includes the coach, driver's gratuity, coach parking and lunch aboard the "Kentish Lady". Depart from West Maldon Community Centre at 8:00 am. Please park your cars at the far end of the car park.
Monday 2nd November - Talk by Gordon Davies – "Safety at Sea, 19th Century style". We will look at the development of safety measures in the 19th century, from the introduction of weather forecasts to the development of life-saving equipment.
Monday 7th December – Christmas buffet and discussion on the 2021 programme.
Meetings for January, February, March and April will be held at Wickham Bishops Village Hall.
Meetings for June, July, September, November and December will be held at The Blackwater Sailing Club, Basin Road, Heybridge Basin, CM9 4SD.
All meetings start at 10:00 am on the first Monday of the Month.
- - - - - - - - - -
Click here for information on past events..
- - - - - - - - - -
A Brief History on the Maritime Group
The group started in October 2001 with the first meeting being in my house, about 12 members attended. We discussed details on what the group hoped to achieve, decided on a format, day of the week and time – always the first Monday in the month at 10:00am. The group was initially called the Maritime History Group.
Following the first meeting, our subsequent meetings were in the river bailiffs rooms on the Hythe in Maldon, however as numbers increased we had to find an alternative venue, after some discussion it was agreed to meet at The Little Ship Club on The Hythe. Here we had many interesting talks on a wide variety of subjects and during one meeting, we decided to re-name the group as The Maritime Group. At this venue apart from talks, we also had the first Maritime dinner to celebrate the 200th Anniversary of the battle of "Trafalgar" with a guest speaker and some 60 members, all in period costume. The groups second dinner was based on the theme of "The Mary Rose", one of our members was the "Guest" speaker, and some 70 members all of whom came dressed in period costume.
In 2004, we also started Maritime-themed holidays with the first one being to the south coast. Since then we have had a further thirteen such holidays, some to Scandinavia and also to Belgium. One holiday took us to Liverpool to see the "Three Queens" which were all in the port at the same time.
As numbers attending meetings increased, we moved to The Blackwater Sailing Club, here we continued to have interesting speakers talking on various Maritime subjects; one talk was given by the Chief Officer of the "Canberra" during the Falklands conflict, another talk was on sailing the world by only using cargo ships. We also had a talk on the re-rigging of the Cutty Sark after the fire.
As a group we continued to have Maritime dinners, with a further three being held at The Blackwater sailing Club. All of dinners were always well attended with members coming dressed for the occasion.
Our Maritime-themed holiday for this year (2019) is to North Wales.
Since the group started, we have had 180 meetings, five dinners and, including this year, fifteen Maritime holidays.
Malcolm Case
July 2019
Music Appreciation Group
Group co-ordinators: Enid Hall and John Skuse
Time: 4th Thursday each month at 2 - 4pm.
Place: Members' houses.
Mostly classical, some jazz, sometimes a musical, other times – comedy. Short extracts, the full works, popular and obscure, and always members' choices. Discussions – animated and often provocative. This is a very friendly group with an average attendance of eight or nine. Oh yes, and always a cup of tea and a biscuit.
Petanque (Boule) Group
Group co-ordinator: Jack Veash
Time: Thursday afternoons at 2pm. See the newsletter for dates in Spring and Autumn.
Place: Promenade Park.
We play on our terrain which must be one of the prettiest in the country. We are very proud of it. It is in the Prom Park, in the hedged area overlooking the new lake. There is plenty of room for us all. It is very simple game and we play for fun only!
For pictures of past events, click here.
Poetry Group
Group co-ordinator: Jo Robson
Time: 1st Thursday each month at 2pm - 4pm.
Place: Members' houses, or a hall if numbers require it.
We are a like minded group who enjoy reading poetry. We have found, by dedicating ourselves to just one poet or occasionally two each session, that we learn a lot about the actual poet, and this has proved very interesting to us all. We do, however, sometimes have a theme to follow up and are always flexible and open to new ideas.
Reading Group
Group co-ordinator: Sheila Epps
Time: 2nd Thursday each month at 2:30pm - 4:30pm.
Place: Members' houses.
We meet monthly to discuss the current book which could be a novel, classic or modern, biography, travel, diaries etc. Our reading list is compiled from members' suggestions and most of our books come from Maldon library, which gives us a great service. We may also choose a theme and each member reads something connected to it, and once a year each person brings a book of their choice and we have a lucky dip.
Rummikub Groups
Group 1
Co-ordinator: Colin Beckett
Time: 2nd Thursday each month at 2pm.
Place: Members' houses.
Group 2
Co-ordinator: Beryl McDonnell
Time: 1st Thursday each month at 10am - 12 noon.
Place: Plantation Hall, Heybridge.
We are very friendly groups who play Rummikub. This easy-to-learn game uses numbered tiles to make runs and sets, similar in some ways to Rummy. Come and join us you will be made very welcome.
Scottish Country Dancing Group
Group co-ordinator: Shirley Grummett
Time: Alternate Thursdays at 10am - 12 noon. See newsletter for dates.
Place: Mundon Village Hall.
Our group is very informal with teacher Sue Last bringing patience and great enjoyment to our dancing. No experience is necessary, many of us were beginners. If you are interested, why not come, see and join in our laughter.
Sing For Pleasure Group
Group co-ordinator: Sue Garnham
Time: 2nd & 4th Fridays each month at 10am - 12 noon.
Place: Plantation Hall, Heybridge.
We enjoy singing a variety of songs and rounds. The group is led by two of our members. Visitors and new members are always welcome, but please telephone the co-ordinator to check there is room in the group.
Strollers Groups
Strollers
Co-ordinator: Gill Stone
Time: 3rd Sunday at 10:00am for 10:30am start.
Place: Various - see the monthy newsletter for details.
This group has been going for some years to accommodate the members who preferred walks around 4-5 miles at a steady pace which cover many different locations. The main format is to start the walk at a pub, have a circular walk, which lasts approximately 2 hours, then arrive back at the pub for lunch. Members are asked to provide a walk during the summer, this way we find we have different leaders and new locations.
Strollers Too
Co-ordinator: Gill Stone
Time: 4th Tuesday at 10:00 for 10:30am start.
Place: Various - see the monthy newsletter for details.
A new group which started in January 2014, following the same format as Strollers but meeting on a Tuesday morning. See the newsletter for details.
Table Tennis Group
Group co-ordinator: Louis Gunn
Time: Every Tuesday at 2:30pm - 4:30pm.
Place: West Maldon Community Centre.
Our group meetings are as successful as ever and on average have around sixteen participants playing doubles on four tables, mixing around regularly. With probably the most important part, the tea break and biscuits at 3.30pm.
Most players had never played before, but they learn as they go along. Some have taken the opportunity to also play elsewhere in order to improve and as a result our group enters two teams in the Division 3 of the Burnham and District Table Tennis League.
It is a very active group and you do need to be reasonably fit and agile to play safely.
Ten Pin Bowling Groups
Group co-ordinator: David Arnold
Time: Every Wednesday and Thursday at 9:45am - 12 noon.
Place: Maldon Heights Bowling Lanes, Maldon.
All those who come along know that the actual bowling is just an excuse to get out, have some fun, meet a lot of nice people, make new friends and have a little exercise. The scores are not important – there are no teams, leagues or tables! It's all very friendly and there are no inquests at the end of each game.
We meet every Wednesday and Thursday morning at 09.45 at Madison Heights. You choose which you prefer. In total between 30 to 50 of us play each week.
At present two hours bowling costs £4.25 but this includes a cup of coffee and cake/biscuits and shoe hire.
They have also provided us with a number of light bowling balls with specially enlarged holes for our older chubby fingers. So come along and join our happy band of bowlers.
On the 4&5th of April 2018, we completed our 800th weekly meeting. There was a total of 55 bowlers on the two days. Sixteen of us have been bowling since 2002. We are full to capacity at the moment and we have a waiting list.

Wednesday bowlers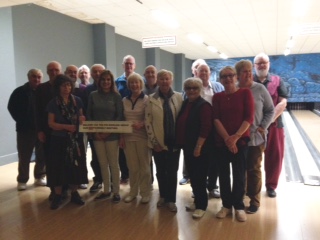 Thursday bowlers
Those who have played since the first session
Theatre Outings Group
Group co-ordinators: Rosemary Case and Joyce Cotterell
Time: Various.
Place: Various.
This group organises theatre visits to London by coach throughout the year to a variety of shows. All visits are open to all members and are very popular and usually oversubscribed. We advise members, who have requested it, by email as soon as tickets are put on hold. If you wish to be added to this list, please contact Rosemary Case by email.
Trees
Group co-ordinator: Veronica Smith.
Time: Once a fortnight, date arranged after discussion in the group.
Place: Members' houses and local venues.
We meet to discuss tree identification and make forays and collecting in the local area to further our knowledge of the trees etc.
Everybody is welcome to join this group even if you feel that you do not know anything. You will almost certainly find that that is not true.
Weekenders Group
Group co-ordinator: Beryl McDonell
Time: Various.
Place: Various.
A group for single people seeking companionship, especially at the weekends. We have a monthly Coffee Morning at which we plan our future programme and which is run by the members.
Wine Groups
Wine Group 1 has now closed.
Wine Group Two
Group co-ordinator: Graham Boswell
Time: 4th Wednesday each month.
Place: Members' houses.
Members take it in turns at our monthly meetings to do a presentation. These have been wide ranging and very varied, but always interesting and informative, and of course, with plenty of tasting. We look forward to more of the same in the coming year.
Wine Group Three
Group co-ordinators: Mary Burd and Paul Costa
Time: 4th Thursday each month.
Place: Members' houses.
This group was formed in 2013. Members take it in turns to host and do a presentation on wines of their choice. The group has retained its membership over the last year and is currently at maximum capacity as we meet in members' houses and are therefore limited with space!
During 2019 apart from our monthly meetings, we took a party together with other U3A members to the Champagne and Alsace Regions in France for a six day holiday with numerous wine tastings and a coach stacked full of wine purchases for our return! Our summer event was a bring and share lunch held at one of our members' houses on a beautiful summer day in August. This year we combined our Christmas celebration with a meal and wine pairings at The Oak House in Maldon.
Wine Group Four
Group co-ordinator: Ann Goody
Time: 4th Tuesday each month at 7:30pm.
Place: Members' houses.
This wine group started in mid-2014 due to demand that could not be satisfied by the other three wine groups. However, it too is full. We take a less formal approach than the first three groups. We meet in members' houses and the host(s) decides what form the meeting will take. Suffice to say we drink, and talk about, a lot of wine; an endlessly fascinating subject worthy of serious study.
Writing for Fun Group
Group co-ordinator: Pete Norman. Contact: Patrick Forsyth
Time: 4th Wednesday each month at 1 - 4pm.
Place: Members' houses.
We are a small but dedicated group of writers who enjoy creative work of many kinds. The most frequently produced is the short story: perhaps humour, mystery, ghost, historic etc. of about 1000 words, this being a suitable size to allow each person to read aloud at our meeting. We also write non-fiction, autobiography, poetry and plays.
Each year we choose a new programme of titles, each of which can be widely interpreted, as its aim is to encourage and inspire, rather than to constrict in any way. The writing is composed at home and brought to our monthly meeting, where each member in turn reads his/her writing aloud. There are never two pieces remotely alike and all are much enjoyed. Each one is commented on by fellow writers, with suggestions, if necessary, for enhancement. This year we will also continue to explore methods for publication and, some of us, more ambitious projects such as writing a full book.